About Allodynic Therapeutics
Allodynic Therapeutics is a private clinical-stage biopharmaceutical company developing products for the treatment of various neuropathic pain conditions. Allodynic is dedicated to improving the lives of those affected by pain with the ambitious goal of ending pain as we know it.  Allodynic's lead product candidate (ALLOD-2) is currently being investigated for the indications of the acute treatment of episodic migraine, prevention of episodic migraine, and chronic low back pain. ALLOD-2 is potentially useful for the treatment of various neuropathic pain conditions, such as trigeminal neuralgia, postherpetic neuralgia, fibromyalgia, vulvodynia, diabetic peripheral neuropathy, and other neuropathic conditions.
Allodynic's product candidate (ALLO-2) is a combination of two re-purposed marketed drugs used for the treatment of pain due to discovery of biologically and clinically relevant affinity for new targets. Both drugs are being re-purposed at a significantly lower dosage compared to the maximum dosage that has already been approved for the marketed indications.
ALLOD-2 blocks innate immune system activation that leads to neuroinflammation surrounding spinal nerve roots or surrounding the trigeminal nerve system. Neuroinflammation adjacent to spinal nerve roots or adjacent to the trigeminal nerve causes back pain or migraine respectively.  The product has a dual action that exerts "a one-two punch" to block two processes causing neuropathic pain generation. It blocks pro-inflammatory cytokines release [nitric oxide (NO), tumor necrosis factor-α (TNF-α), and reactive oxygen species (ROS)]. and activation of COX-2.
End Pain As We Know It!
Addressing a biological target responsible for the root cause of pain
Hi, I'm Dr. Annette Toledano
I'm a drug developer and a practicing physician. I founded Allodynic Therapeutics, LLC in 2010 to develop a novel combination drug product after I discovered that it worked well for my own low back pain. Although my initial discovery was purely empirical, the rationale for the combination emerged to be based on biologically relevant affinities for a newly discovered target for pain.
I received my medical degree from the Technion-Israeli Institute of Technology and subsequently, I completed internal medicine residency program at the Jamaica Hospital in New York. I'm board certified in Internal Medicine. I have been practicing Internal medicine in my own practice in Miami since 1985.
​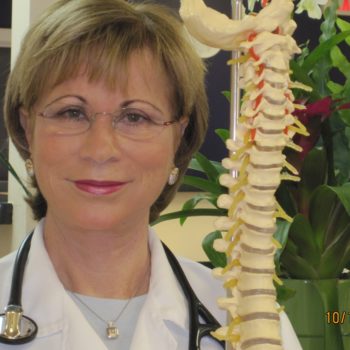 The Investigational Products
Our initial product was a combination of a Toll-Like Receptor-4 (TLR4) antagonist and an alpha-2 adrenergic agonist, code-named ATNC05. Both components were well-characterized existing drugs which were used in the combination at a significantly lower dosage compared to the dosage used for the approved indications. We conducted a 78-subject IND-clinical trial on patients with chronic back pain using oral BID ATNC05. Based on the result of that study, in December 2013, the FDA has granted  ATNC05 a breakthrough designation for the treatment of chronic back pain.
Both components of ATNC05 inhibit TLR4-induced production of pro-inflammatory cytokines, which eliminates pro-inflammatory cytokine-induced neuroinflammation surrounding cranial and spinal nerve roots. Such neuroinflammation results in neuropathic pain along the anatomical distribution of a spinal nerve in the case of back pain and the trigeminal nerve in the case of migraines.
Subsequently, we replaced the alpha 2 adrenergic agonist in the combination with a selective  cyclooxygenase-2 (cox-2) inhibitor. Hence, the new combination is a blocker of the production of pro-inflammatory cytokines and an inhibitor of COX-2 at the same time. The new combination is named ALLOD-2.  Currently, ALLOD-2 is being developed in two investigational new drug applications (INDs) for two therapeutic indications (migraine and chronic low back pain).
List of our Clinical Trials
We are currently conducting four investigator-initiated clinical trials with ALLOD-2 for the following indications:
Acute Migraine (two studies),
Migraine Prevention,
Chronic Low Back Pain.